The seed for A. Plot was planted in 1981, when Neale Brassell and Kevin Young met in a hardware store, discovered both were musicians, and as tends to happen, soon agreed that "we should jam sometime".  After a couple years and a few fits and starts working with other musicians who just weren't on the same page, Neale decided more drastic action was needed and told told Kevin, "We're starting our own band with just one rule: We play nothing but our own music."  Other like-minded musicians were rounded up and so began A. Plot.
Over the next six years A. Plot became reasonably successful in the Santa Cruz music scene, playing regularly in a number of venues, including opening a weekend show for a national touring act a time or two at The Catalyst, the premier club in the area.  But having to tailor the music to a nightclub audience, and dealing with the departure of their fourth drummer, the guys decided to hang it up for for a while in 1989.  In the nineties Kevin moved to southern California and Neale moved to St Louis Missouri... was the A. Plot story over?
Fast forward to Spring of 2014.  Kevin discovers computer-based digital recording and found himself with some time on his hands and on a lark recorded a couple old A. Plot songs, and thus inspired, commenced a creative songwriting binge that caught even him by surprise.  Meanwhile, Kevin and Neale had remained good friends over the years despite the distance.  In June Neale visited and was so blown away upon hearing "King Of Bees" (one of the new songs), that with Kevin's urging he jumped into the fray, dusting off his keyboards and purchasing a couple more, along with a digital production workstation.  He then started working on the songs that Kevin was writing.  The internet sizzled with gigabytes of songfiles being sent back and forth.  A. Plot was back in business, and better than ever!
After several months of intense writing, editing, and recording, the guys realized that, well, now what do we do?  They had well over a CD's worth of music completed.  Almost as a joke, Neale said they might as well just do a double CD and really break all the rules.  Kevin agreed and soon two CD's worth of music was completed.  After deciding they might as well finish jumping off the cliff, a record company and a publishing company were formed and in March of 2015, "Lipstick Smears & War Machines" (the album title is a line in the closing song, "Tuesday At Noon") became a reality so for the love of God BUY IT!
Kevin never even took a breather before starting on more new music, and with the new songs, was shooting for something even better.  The album was met with a pretty positive reception - mostly from the progressive rock community, of all places - but the lack of a real drummer was a sore point.  But then, fate intervened!  Back in the 90s, Kevin and Neale had briefly rehearsed a few times with a drummer and bassist with the idea of reviving A. Plot.  It didn't happen, but lo and behold that very drummer and bassist heard the new A. Plot materials and the next thing you know, were the rhythm section on the second album!
And so, nearly two years later in January of 2017, A. Plot released their second album, "Secrets Of The Rabbit Hole", yet another double-CD with over two hours of music! Apparently nobody told the guys that no indie band ever released back-to-back double CDs, so they did it because they could.  The second album displays the same cinematic scope and razor-sharp lyrics of the first album but with an even wider and deeper sonic palette.  So please buy it and be prepared to be blown away!
This time Kevin and Neale both needed a break after all the work of the second album, but after two years the music itch has made itself known!  So in mid 2019 the guys took to microphone, guitar, and keyboards... recharged... and back hard at work with some definite surprises in store!  Stay tuned for the next chapter, and look out!
Kevin Young: Guitars & Vocals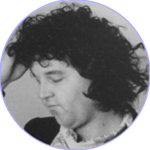 Kevin Young started playing music at a young age and by high school was already in a Kiss tribute band where he played bass and pulled off a remarkably good Gene Simmons.  Besides dabbling with the piano, he was soon developing his distinctive guitar and vocal styles.  But it was in his writing and composing that Kevin was truly finding his calling and he displayed amazing lyrical skills while still in school.  The lyrics to "The Skies Of October" were written for a high school assignment, where the teacher, clearly not a future A. Plot fan, pronounced them "pretentious".  Undeterred, Kevin forged onward and you can hear his lyrical brilliance in every A. Plot song.
Never one for limits, Kevin is a voracious music lover with a knack for discovering up-and-coming bands just about six months before anyone else has heard of them, in nearly every genre across the board.  While occasionally admitting to a special affinity for the lyrics of early Elvis Costello, Kevin's musical taste runs the gamut across the spectrum, from punk to prog to new wave to classical to jazz to nearly everything else, and his wide range of influences is no doubt a big reason for the incredible diversity in the songs of A. Plot.
Neale Brassell: Keyboards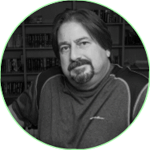 Neale Brassell started playing the piano at age 5, and was on the concert pianist track until age 14 when a friend introduced him to the music of Yes and ELP, which pretty much changed everything.  The next thing anyone knew, he'd pulled the family organ into a "U" with the piano and the Fender Rhodes and was down at the local music store looking longingly at a Minimoog... and was using Rick Wakeman's solo in the live version of "Starship Trooper" for fingering exercises!  Sadly it was to be six years later before he was the proud owner of his first synthesizers, an Oberheim OB-X and a Micromoog.  Although he sat in with a few bands, nothing ever felt like a good fit until the fateful meeting with Kevin.
Since his introduction to the genre, Neale has remained a fan of progressive rock, and even today is heavily involved in the (relatively underground) progressive rock scene, as a long-time patron of the ROSFest and ProgStock progressive rock festivals.  He readily lists players such as Clive Nolan, Tony Banks, and Rick Wakeman as musical influences (and keyboard idols).  While A. Plot is not a progressive rock band, Neale's keyboards and production, with an eye toward the sound canvas and the interplay of the different parts, definitely reflects this influence, and form his own contribution to the unique sound of A. Plot.